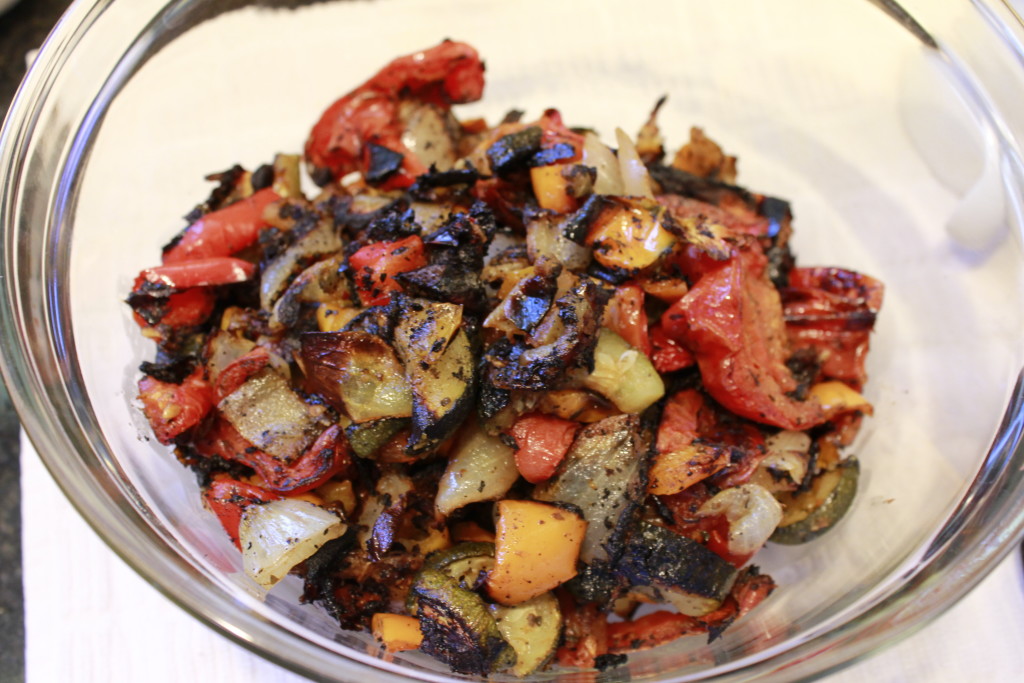 Beautifully Roasted Vegetables
There is nothing like the flavor of roasted vegetables – marinated and blackened to a caramelized perfection to enhance any recipe you create. Roasted vegetables make a delicious and healthy snack as well as a wonderful addition to a sandwich, wrap, omelet, casserole, or any other culinary creation.
One of my personal favorites is roasted vegetables on homemade pizza. Since I am not a fan of "pizza sauce" on my pie, using roasted vegetables adds a burst of flavors that will change the way you think about processed sauces and fast food or store bought pizza, forever.
Roasting vegetables is easy. It's also a great way to preserve them when their shelf life is coming to an end so that you can use them later. Simply refrigerate or freeze them.
How to Roast Vegetables
What you will need:
Vegetables (Any and most)
Olive Oil
Balsamic Vinaigrette (Optional for zingy taste)
Black cracked pepper (Optional, but so good!)
Sea Salt (Optional) I use iodized sea salt or Himalayan pink
Basil (Optional, but so good!)
Any spice you like…
Parchment paper *This provides a non-stick surface. A baking sheet alone will also work but be prepared to let it soak afterwards, even if sprayed

Baking sheet (large)
Preparation time: 15 to 30 minutes depending on the amount of veges you will need to wash and wedge.
Cook time: 30 to 60 minutes
All vegetables can be used. I do my best to use fresh, organic vegetables which are fairly abundant these days and because of popularity, more affordable than in the past. I use zucchini (any and all squash), radishes, onions (any and all onions), tomatoes, green, red and yellow peppers (any and all peppers), eggplant, garlic, broccoli and cauliflower (great for snacks!), potatoes (small red, tubers or cut large. Great for meat dishes or breakfast casseroles). Anything not mentioned here? Give it a try! Pineapples and most other fruit are also delicious when roasted.

Kale, one of my favorites, will disintegrate when roasted in the oven. I peel the leaves from the stems and roast my kale in a skillet with garlic and very little olive oil until nice and crispy. This makes a great snack too.
Here's what to do:
1. Wash all vegetables. Cut into approximately one inch wedges and place into large bowl. Too small a wedge the vegetables will disintegrate while roasting especially if you don't use the parchment paper. They will stick to the pan and there won't be much left of them when you scrape them off.
2. Add a small amount of olive oil and balsamic vinaigrette, basil, and pepper, just enough to coat all vegetables while hand tossing gently. Salt is always optional. A little goes a long way and is not heart healthy. Use salt sparingly and sprinkle over the top once vegetables are spread on sheet or omit all together.
3. Line a large baking sheet with parchment paper. Trim excess paper from sides so it doesn't scorch. *Please note – the maximum temperature for an oven when using parchment paper is 420 degrees. Spread vegetables out on parchment paper.

4. Roast vegetables at 420 degrees for up to 2 hours. Check in 30 minutes and turn with large spatula to allow all sides to be browned. Continue to cook until edges of onions become blackened and vegetables look caramelized. They will be fully cooked early on but the roasting takes longer.
5. Remove from oven and allow to cool.
Use vegetables as you would like for recipes. Onions, tomatoes and peppers give wonderful flavor for pizza. Potatoes and onions great with meat dishes, etc….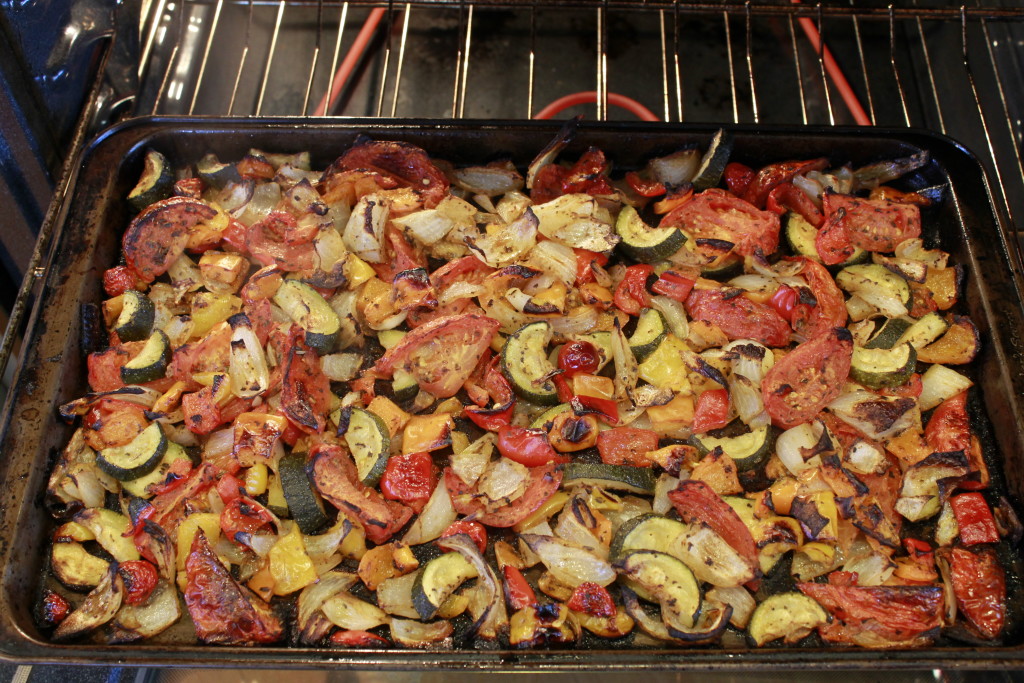 After 30 minutes use spatula to turn vegetables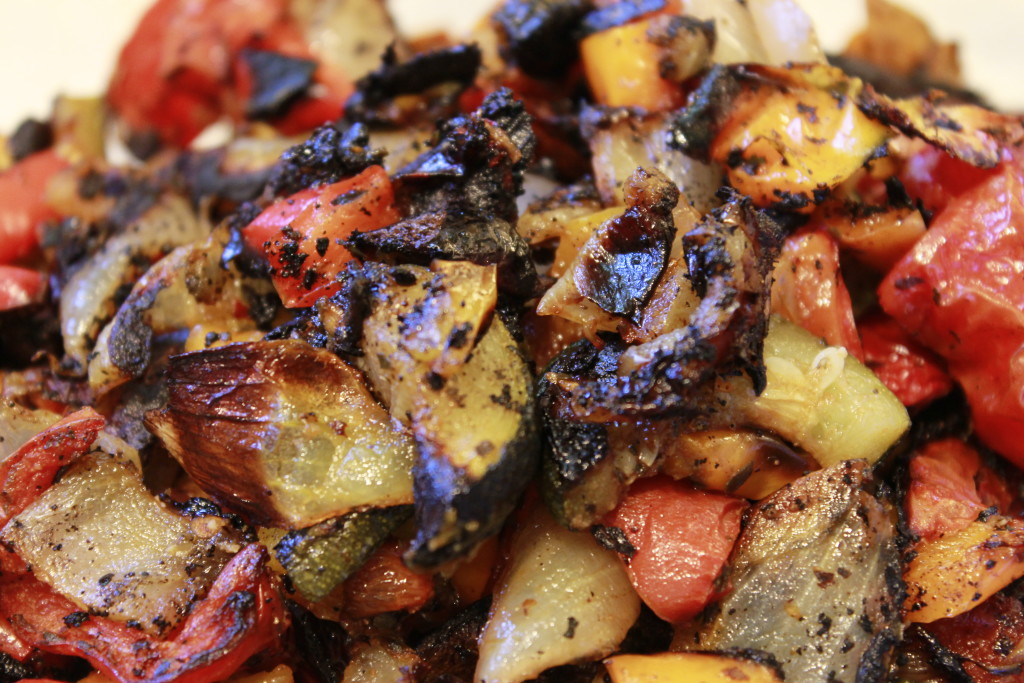 After 90 minutes – ready!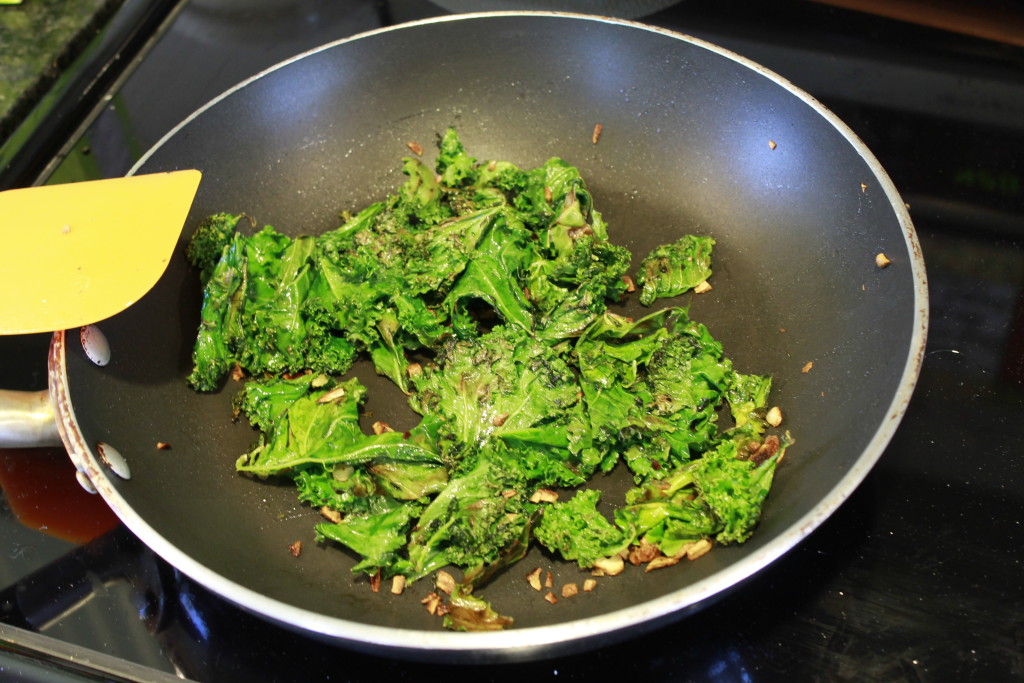 Roasted crispy kale with garlic. Great as a snack by itself, on pizza, sandwiches and salads.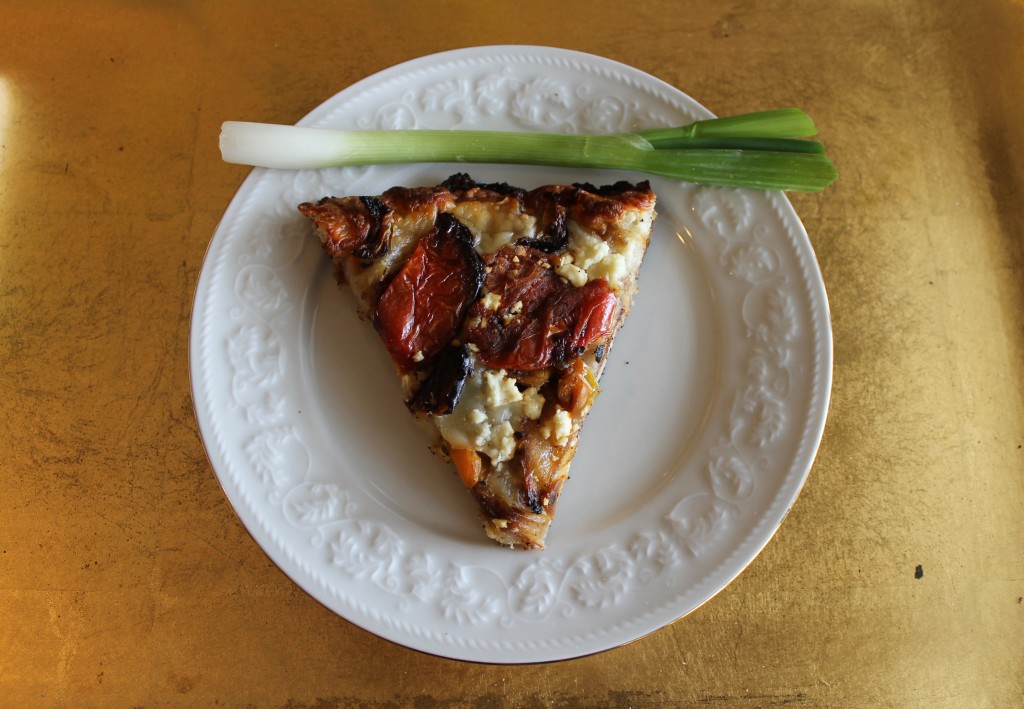 And one of my personal favorites – roasted tomatoes, onions and peppers with feta cheese on whole grain crust. It's great with goat cheese too! So good!

I'd love to hear your questions or feedback under comments.
Thanks so much for visiting!
Bon Appetit! (My mom would always say this to me.)
Kim