When my husband, Manuel, bought an older RV I wasn't really sold on the idea. When I learned that the mileage was so low for it's age I felt a little better about it.  Although the outside (to me) is an eyesore, the bones were good and I saw a fun challenge in redecorating and updating the interior. I must say that I was pleased with the way it turned out and even found myself looking forward to traveling a bit in our old/new home on wheels.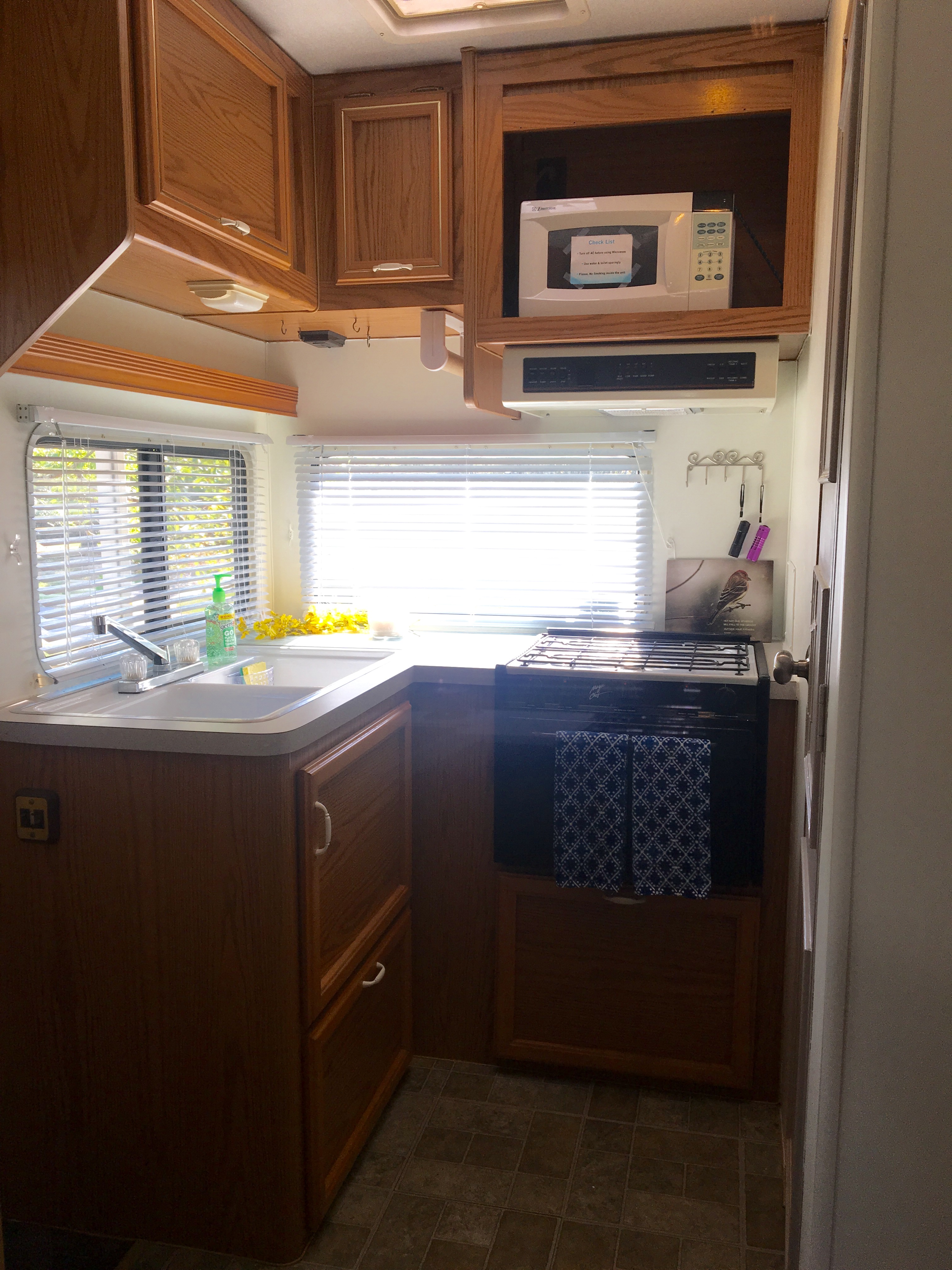 The kitchen, being in the back provides a lot of light with it's large windows. The propane gas stove and oven enable us to cook when we don't have electric hookups. The gas hot water heater and furnace system provide hot water and warmth.
The couches were early american ugly.  I recovered the couches with denim which I thought might be more durable and dog friendly. I painted the vinyl wall board white, recovered the window valances and hung new white mini blinds.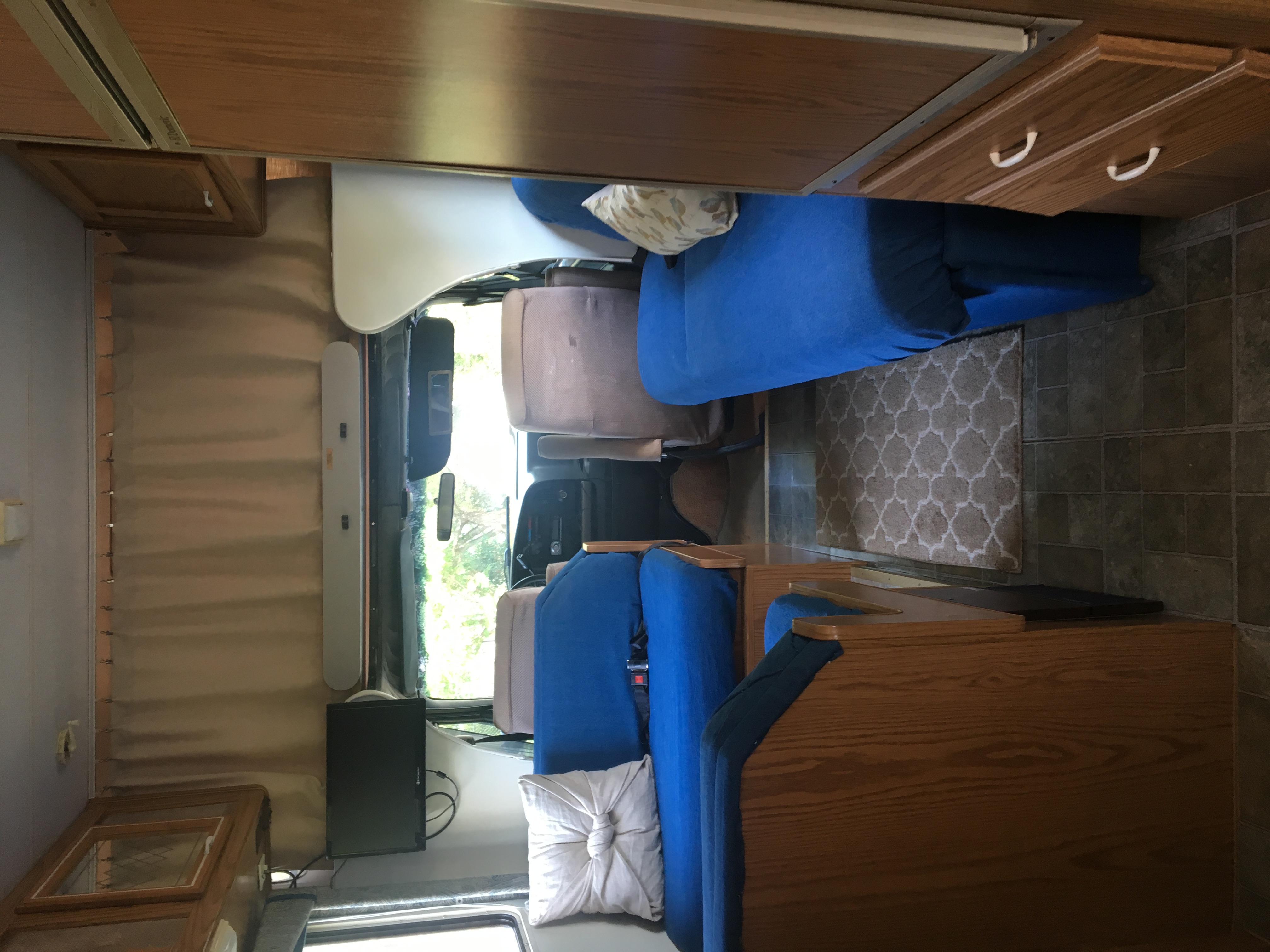 I found some beautiful linen and made curtains to conceal the top bunk. I also removed the flaking gold drawer and cabinet knobs and pulls and sprayed them white. (There were 25 of them!)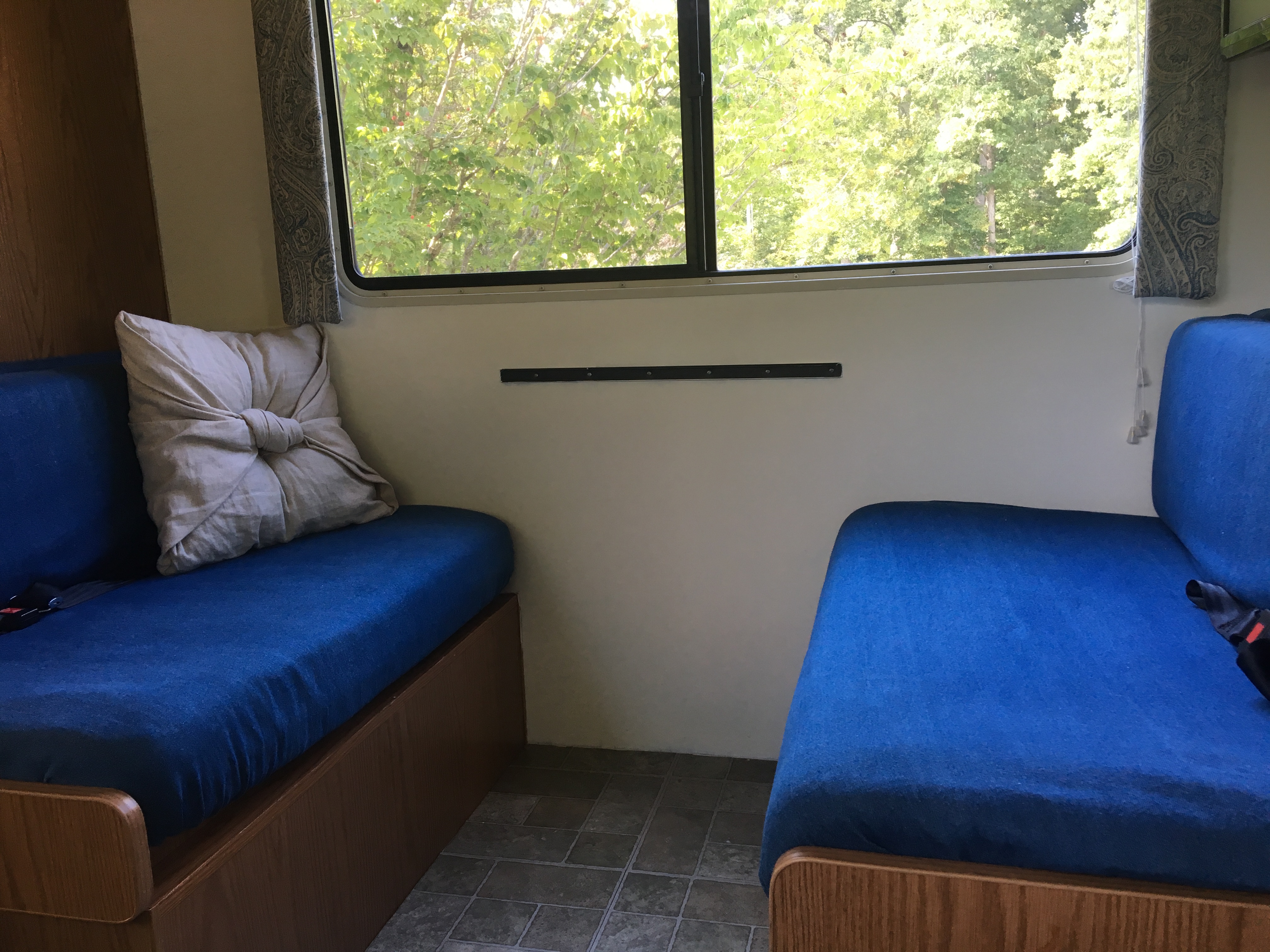 And finally, the bathroom is one of my favorites, maybe because I know how dated it was. I first removed the sink faucet which was made of plastic and had turned yellow over the years. I spray painted the sink which was the same yellow oxidized plastic. I replaced the faucet with brushed nickel and added a towel bar to match. I felt a back-splash was needed so added a tile one and caulked around the tile and sink.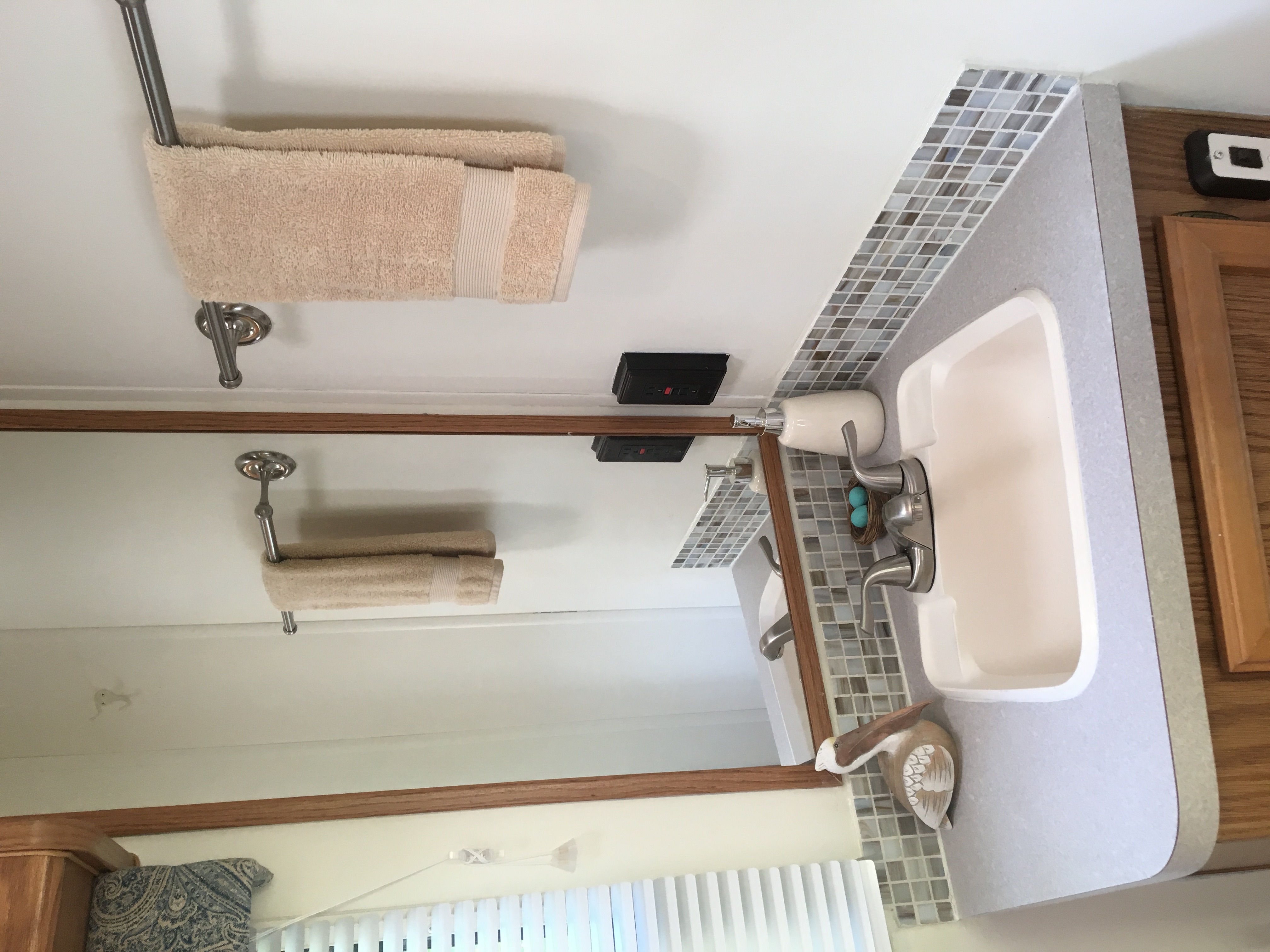 The door, which was nothing more than a flat faux oak panel was such an eyesore to me. I decided to trim it out, caulk the trim and paint it all taupe. I also replaced the old flaking gold door knob with a satin nickel one.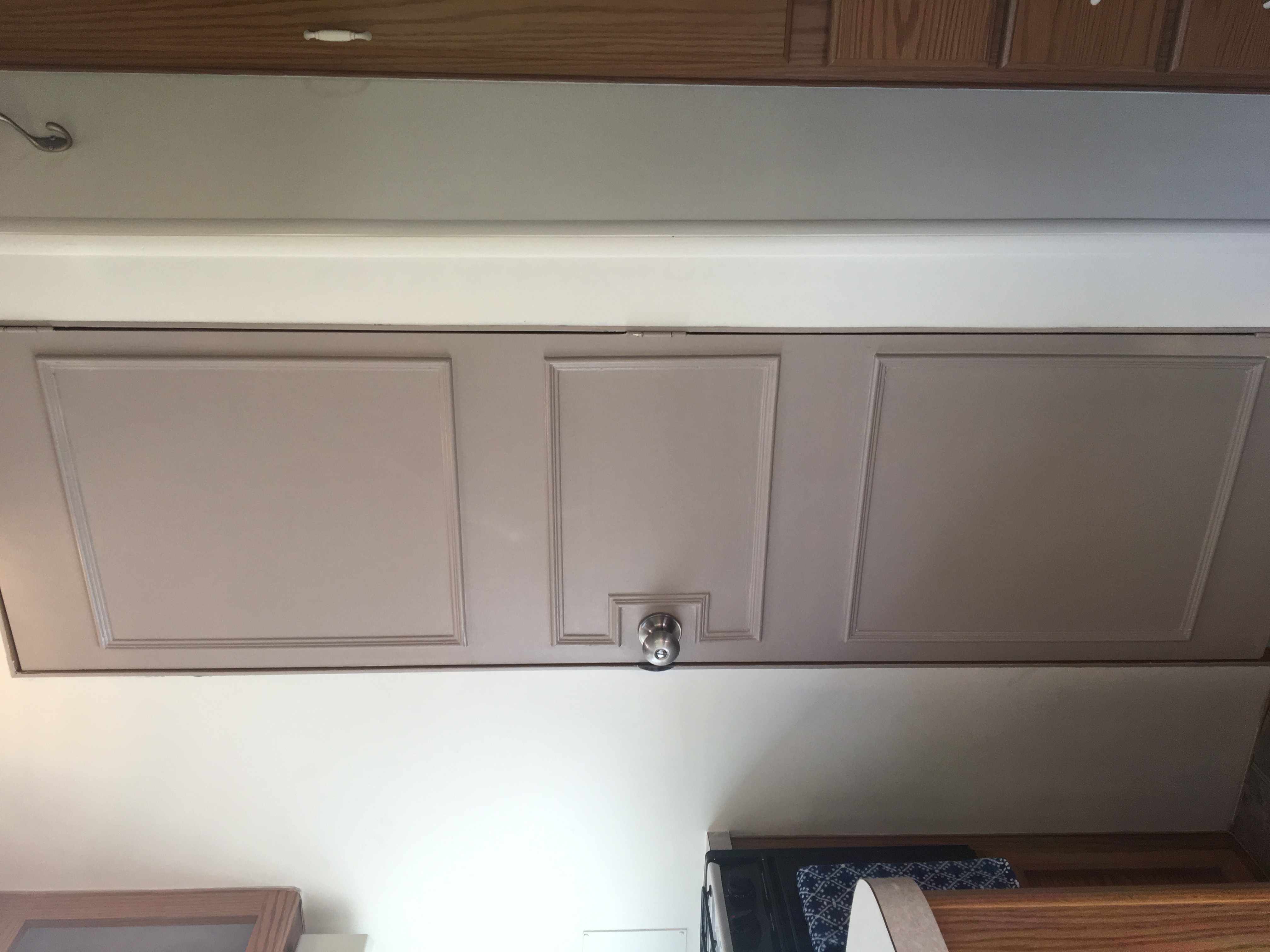 The outcome of the interior was a nice surprise and our first trip has been amazing. Truly an adventure of a lifetime. It's been Manuel's dream for a long time though I'd be lying if I said that it was mine.  Don't get me wrong, I love an adventure but I also like being home and accomplishing things. It's been interesting to me in that I brought knitting, a scrap book and books with me but haven't had much spare time to devote to them. I'm curious about how I will feel when we finally do get home. Will I be restless or restful?
Here's how a typical day might go…
Between 6:00 & 7:00 am:
Wake. Put socks on while in bed!! Climb down out of a loft (carefully).
Squeeze through sleeping husband and dogs to get to bathroom.
Turn heater up!
Wash face, brush teeth.
Put hot water on in kettle, if we have electric, on gas stove, if dry camping.
Bundle up, walk dogs.
Have coffee, make toast (if we have electric).
Check in on Facebook.
Wash up (if dry camping, limited water) or shower (if we are hooked up in a campground).
Consider doing laundry (if in campground) because we (I) tend to keep wearing the same two outfits instead of digging out the 6 months of clothes I brought!).
Tidy up.
Stow everything away for travel.
Walk dogs again.
Shake all dog bedding outside.
Wake husband!
Between 8:00 and 9:00 am:
Wait for husband to-
Wash up.
Have coffee and toast.
Dump pooper tank.😝
Empty gray water tank.
Flush tanks.
Unplug all.
Drive us to another beautiful place!!
After noon:
Decide where to stay the night.
It all depends on whether we want to shower or not. I much prefer dry camping (with no power and a 40 gallon tank of water under the RV for limited use) and being in nature is worth it! Well, if you call being in a fiberglass box being in nature.
Something I've learned is that when traveling in an RV, it's not only about the destination but it's as much about the journey. Giving that some thought, that's much like life, isn't it?
Well, thanks for stopping by. Time to get rolling!
Kim