Savory Summer Tomato Pie

Print recipe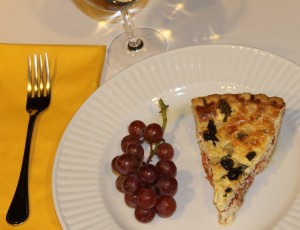 | | |
| --- | --- |
| Allergy | Egg, Milk, Wheat |
| Dietary | Vegetarian |
| Meal type | Appetizer, Breakfast, Lunch, Main Dish, Side Dish |
| Misc | Freezable, Pre-preparable, Serve Hot |
| Occasion | Barbecue, Birthday Party, Casual Party, Christmas, Easter, Formal Party, Thanksgiving, Valentines day |
| The Happy Cardinal | Kim Brewer - Bettencourt |
This Savory Summer Tomato Pie is the perfect dish for all occasions. Beautifully garnished by a side of summery fruit.
Ingredients
1 9 inch deep dish pie crust
2 eggs (beaten)
1 cup whole milk (may substitute with half and half)
1/2 teaspoon fresh diced or dried basil
1 teaspoon salt
1/2 teaspoon pepper
1/2 cup onion (diced)
1/2 cup cottage cheese
1/2 cup ricotta cheese
1 1/2 cup swiss cheese (shredded)
2 or 3 Medium tomatoes of your choice (sliced thin)
Note
This recipe is easily amended for vegan preference by using non dairy products.
Gluten free crust may be used in place of ready-made pie crust.
When preparing this delicious Tomato Pie, I always double the recipe and make 2!
Directions
Step 1
Preheat oven to 375 degrees. Place 9" pie shell in pie plate and set on cookie sheet. Set aside. If pre-made, prepare according to package directions. I like to pre-bake mine for 10 minutes. This is not a neccesary step.
Step 2
Slice tomatoes 1/ 4 inch thick. Leave in colander to drain while preparing the mixture.
Step 3
Mix together in large bowl - 2 beaten eggs, milk, ricotta and cottage cheese, salt, pepper, onions and basil and set aside.

*Vegan replacements can be used.
Step 4
While in colander, with a doubled paper towel, gently press tomatoes to release excess moisture.
Step 5
Layer all tomatoes on bottom of pie shell until shell is covered.
Step 6
Sprinkle swiss cheese on top of tomatoe layer until covered.
Step 7
Pour prepared mixture over swiss cheese slowly until pie shell is full.
Step 8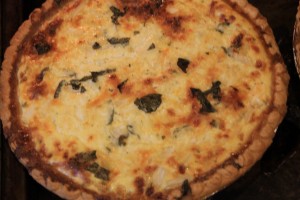 Gently move cookie sheet to oven. Bake at 375 for 50 minutes to 1 hour depending on oven. Pie is fully cooked when fork inserted in middle comes out dry.

*If necessary, gently tent with foil the last few minutes so crust doesnt burn while pie is cooking fully.

Bon Appetit!