Roasted Radishes

Print recipe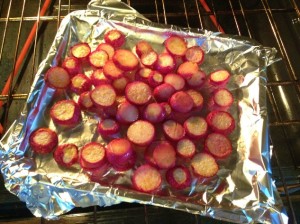 Roasted radishes make the perfect, healthy snack!
Ingredients
1 Package Radishes (Thickly Sliced)
1/2 Teaspoon Sea Salt (May omit if using other seasoning)
1/4 Teaspoon Extra Virgin Olive Oil (May use a bit more if it's not enough to coat lightly)
1/2 Teaspoon Creole Seasoning (My preference is Tony Chachera)
1/2 Teaspoon Pepper (May omit if using other seasoning)
Directions
Step 1
Preheat oven to 400
Step 2
Slice radishes thickly. Place in medium size bowl.
Step 3
Toss radishes in olive oil to coat lightly
Step 4
Spread in single layer on cookie sheet lined with parchment paper or aluminum foil
Step 5
Sprinkle with seasoning or salt and pepper, I use Tony Chachere's Creole Seasoning.
Step 6
Roast for 1 hour or until crusted on top