Crunchy Apple Crisp

Print recipe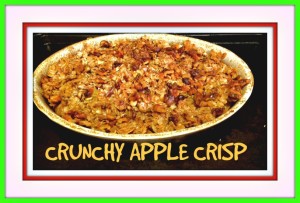 Ingredients
The Fill
8 Medium Granny Smith Apples (Peeled, cored and diced into 1" squares (approximately, not a law))
1/4 teaspoon Lemon Juice (for tossing peeled apples in to keep from browning)
1/4 cup Raw Sugar (may use any sugar)
1/4 cup Maple Syrup
Topping
1/2 cup Butter
1 cup Whole Oats
1/2 cup Walnut Pieces
1/2 teaspoon Ground Cinnamon (less if desired)
1/3 cup Raw Sugar (modify if desired)
1/4 cup Maple Syrup (modify if desired)
Directions
The Fill
Step 1
Preheat Oven to 375
Step 2
In medium bowl, gently toss peeled, cored and diced apples in lemon juice
Step 3
In small bowl, mix 1/4 cup sugar and 1/4 cup maple syrup. Stir together.

Step 4
Fold syrup mixture into apples until apples are coated
Crunchy Topping
Step 5
Spread apples into shallow casserole dish.
Step 6
In medium bowl hand mix together, 1/2 cup melted butter, 1/3 cup sugar, 1/3 cup maple syrup and 1 cup of whole oats. Hand mix until blended. Mixture should be firm but spreadable. If too dry, add a 1 tablespoon more melted butter or 1 tablespoon more maple syrup.
Step 7
Spread mixture over top of apples covering all.
Step 8
Sprinkle 1/2 cup walnut pieces over top.
Bake covered at 375 for 30 minutes. Uncover and continue baking for another 15 minutes or longer when topping appears roasted and caramelized.
Step 9
Sprinkle 1/2 teaspoon cinnamon
Step 10
Bon Appetit!