The United State Air Force Academy Chapel
"Integrity First, Service Before Self, Excellence in All We Do". If only we could all live by such standards. These are the core values of the United States Air Force.
My husband, Manuel, and I recently attended his 45 year class reunion at the United States Air Force Academy in Colorado Springs, Colorado. Lt. Col. Manuel Joseph Bettencourt, Ret., graduating class of 1968, served our country, along with many great men and women in Viet Nam and for many years after. I am proud of my husband, and appreciate immensely the sacrifices he has made – sacrifices that continue to compromise his present health.
I can't begin to describe the multitude of feelings I experienced while visiting Colorado and the academy. The beauty of the state is breathtaking. I hadn't a clue there could be so much wilderness and natural beauty in one place!
View of the Continental Divide
The academy is situated on 18,500 acres. Manuel has spoken often about some of his best years while he attended school striving to live by the standards and the core values of the Air Force. Integrity is one of my husbands greatest assets.
Our second day we enjoyed lunch with the cadets. Sitting among 4000 young men and women, all who will be officers, striving toward excellence. I was so impressed by their commitment and discipline at such a young age. I was humbled by their dedication to this great country.
The Chapel at the USAFA
A memorial service in the beautiful chapel honored 70 cadets from the class of 68 who are no longer living. Some of these men lost their lives while serving our country. Roll Call was given. One by one, each man's name was called, and one by one, a representative from his squadron would stand. "Absent, Sir!" was heard seventy times in the chapel that morning, each time as heartfelt as the next.
The sermon was a poignant reminder that we should value and nurture our friendships. It encouraged me to reach out to those who have been in my life for awhile and to embrace and nurture those friendships.
The final day was the Army vs Air Force football game. I don't believe I have ever experienced a sporting event as patriotic and as symbolic as this one. Before the game began there was a traditional jet fly-over along with a marching band followed by thousands of young cadets on the field.  It was a sight to see.
The National Anthem was played and sung by all while 4000 cadets stood at attention.
The falcon, the mascot of the academy, was flown at halftime. Trained to pursue the lure being swung by his trainer the falcon is released from the highest point in the stadium. All watched intently as the falcon found it's way to it's trainer on the center of the field (above) and was ultimately rewarded with it's bait.
The final and most impressive gesture for me was after the game had ended. All players on both teams ran to their respective opponents seating area. First to one, then to the other, while singing each schools Alma-mater. This traditional and ceremonial act represented the most profound truth that we are all, ultimately, on the same team.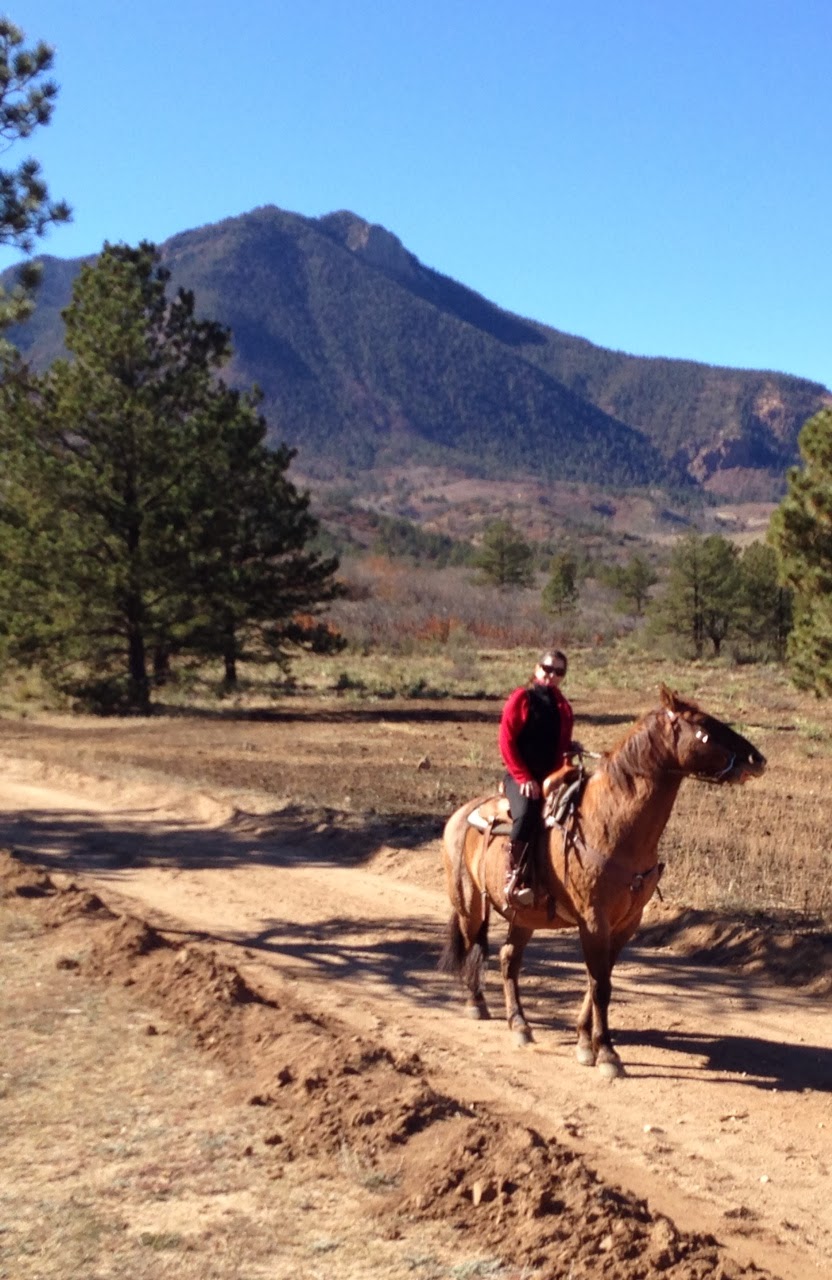 Another highlight was that Manuel and I were able to rent a couple of horses from the stables on the academy grounds. The two of us had complete access to several hundred acres of some of the most beautiful country I've ever seen, bordering Pike National Forest.  Pure Heaven!  It was there that Manuel and I tied a prayer feather to a tree (a Native American tradition). This ceremony of  folklore is used to communicate to the great spirit your desire to return to that location.
  Manuel and me on Hoosier Pass at the Continental Divide
Our visit to Colorado was a trip of a lifetime! Who knows, maybe the prayer feather we hung will help us find our way back one day. Thank you for visiting, and maybe next time, I'll tell you about the bear I saw!
Kim